HOLIDAY IN THE HIGHLANDS OF SCOTLAND
THE FACTOR'S HOUSE
SMALLBURN
CAIRNIE
By HUNTLY
ABERDEENSHIRE
Scottish Tourist Board
* * * *

The Factor's House is situated five miles north of Huntly in the Grampian foothills. It is a mile off the A96, the main Aberdeen to Inverness road, 18 miles from the lovely north eastern coastline, and within easy reach of Royal Deeside. It is in excellent walking and bird-watching country, and other activites close by include golf, fishing, riding as well as many other visitor attractions such as castle visiting and Scotch whisky tasting!
The Factor's House (so-called because it was orginally that part of the house which was occupied by the estate manager, or factor) is a self-contained wing of the elegant Smallburn farmhouse. It has its own double front door, and parking area. Although it only sleeps two, it is extremely spacious and comfortable; double-glazed and centrally heated, and has been awarded four stars by the Tourist Authority. Smallburn stands amid two acres of gardens, stables and farm buildings, surrounded by its own paddocks and young forests, where guests have unlimited walking access.
The Factor's House is furnished to a high standard and fully fitted out with all you need for a Highland holiday. The conservatory/sitting room captures the morning and evening sunshine and has wide views of the hills. The central heating boiler provides plenty of warmth and is housed in a cupboard - excellent to dry washing or wet coats. There is a wood-burning stove providing a cheerful glow for chilly winter evenings, and blinds on all the windows for the summer nights when there will be over 20 hours of daylight.
Double doors lead you through to the dining and kitchen area. This is a high-ceilinged room with tall windows, and a pine table seating four.
The kitchen is well equipped to prepare either light breakfasts or for full catering. There is an electric oven, a microwave, a refrigerator and a washing machine. The work surfaces are solid oak (and we would ask you to respect them by keeping hot pans on the mats or blocks and using the chopping board). The water supply is from a natural spring and there is no shortage of it!
The upstairs bedroom has a window overlooking the stables and garden and the hills beyond. There is a comfortable double bed with electric blanket, two chests of drawers and a large walk-in wardrobe. It would be possible to put up a "Z-bed" in the sitting room or bedroom to sleep another person, or a cot is available for small children.
The Factor's House is carpeted throughout and there is an attractively tiled bathroom with shower and bath, washbasin and WC.
All linen is provided, and the attached list indicates the contents of the Factor's House, to help you plan your packing.
NOTE: The telephone number is 01466 760 219. The telephone line is shared with the house.
The Smallburn telephone number is 01466 760 219
NOTE: Well-behaved dogs are welcome by arrangement, but they must be securely under your control as our land marches with a sheep farm. Also in spring and summer, birds such as curlews, oystercatchers, partridges, snipe and pheasants are nesting on the ground and should not be disturbed. Stables and paddocks also available by arrangement.
---
DIRECTIONS TO SMALLBURN & THE FACTORS'S HOUSE
SMALLBURN & THE FACTOR'S HOUSE are less than a mile off the main A96 Aberdeen to Inverness Road. It is about 5 miles north of the Huntly roundabout. The last part of the way is an unadopted farm road and although we make frequent attempts to fill potholes, its heavy use by tractors or occasional storm damage, etc mean that it can be quite rough.
Coming from the SOUTH, 4 miles after the Huntly roundabout (keep straight on the A96, do not take the turn to Huntly on the right), look out for the ASHGROVE Filling Station and transport cafe on the left. Continue on A96 uphill to cross a road bridge. There is a sign to Boghead & Windyraw TAKE A RIGHT TURN TO SMALLBURN HERE.. Follow the road round and take the next left where the houses and cottages are. It is signposted Smallburn. Drive carefully down farm track, (avoiding free range children, dogs and cats) cross bridge and continue uphill to very end of tarmac passing cottage on left. Smallburn and The Factor's House are at the top of the road.
Coming from the NORTH the turn is on your LEFT about 4 1/2 miles from Keith. Look out for a TURN TO YOUR LEFT signed to Boghead & Windyraw. Follow the road round and take the next left where the houses and cottages are. It is signposted Smallburn. Drive carefully down farm track, (avoiding free-range children, dogs and cats) cross bridge and continue uphill to very end of tarmac passing cottage on left. Smallburn and the Factor's House are at the top of the road.
---
Some Views of the Interior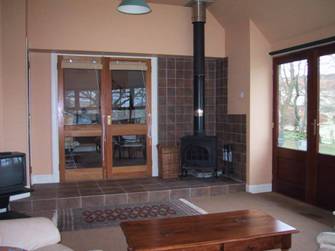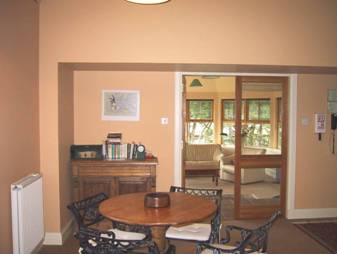 INVE

---
INVENTORY
Sitting Room
Sofa & two leather armchairs
2 cushions
Coffee table
Afghanistan Rug
2 small lamps, large bowl
Vase of silk flowers
Television
Wood-burning stove, fire irons and log basket
Boiler cupboard
Drying rack
Kitchen/Dining Room
Radio
Pine table and 4 chairs with cushions
Pine sideboard, Wooden fruit bowl
Writing bureau
Vase of poppies, three pictures
Bread bin and clock
Telephone with directory
Green microwave and toaster
Kettle, Teapot, Stainless steel coffee pot & jug
Chopping board, heat block and mat
Knife block, 2 Trays
Tea towels, hand towels, dishcloths, duster, oven cloths
2 red floor rugs
5 saucepans, Copper pan and frying pan
Weighing scales, rolling pin, knives, masher and peelers
Braun liquidiser, clothes pegs, fire extinguisher & blanket
Scissors, corkscrew & tin opener
Crockery for six plus Plates, bowls, cups and saucers
Salad bowls and mixing bowls, colander, graters, jugs and casseroles
Tumblers, sherry glasses, wine glasses, beer mugs
Toast rack, butter dish, egg cups, tea strainer.
Full cutlery set
Green waste bin
Moroccan bottle, Utensil jug
Green drainer
Bathroom
Shaver point, mirror, shower curtain, towels and clean bed linen, pedal bin and loo brush
Under-stair cupboard
Vacuum cleaner, Dustpan & brush
Iron & Ironing board
Short steps
Bedroom
Double bed, four pillows and duvet
Electric blanket
2 lamps, 2 pine chests, Coat hangers
Curtains, Bedspread & cushion
Wooden chair, Blue floor rug
A refuse bin is available by the car park for visitors' use and there is a lidded galvanised bucket for hot ashes.
---
The Factor's House
BOOKING FORM
NAME ..................................................................................................................
Address................................................................................................................
.............................................................................................................................
Telephone/fax numbers.......................................................................................
DATE ACCOMMODATION REQUIRED
Arriving..........……………….................Leaving……………………… ...................
Prices 2012
Pet supplement £10
Extra person supplement £20 (i.e. more than two)
October, November, December, January, February March
£275 per week (Christmas & New Year £325)
April to October £375 per week
Please make cheques payable to Mary Stelmach
A £30 deposit should be enclosed when booking – the remainder of the rent is due four weeks before your holiday commences.
We regret that we cannot offer a refund after this date unless we are able to relet the property. We suggest that you take out your own holiday insurance if this is of concern to you.
On the day of your arrival The Factor's House will be ready from 3.00 p.m. on the Saturday. Should you wish to arrive earlier please let us know. In any event, we would appreciate a telephone call to let us know approximately when to expect you so that we may be sure that the key is available.
On the day of departure, we would be grateful if the house could be vacated by 10.00 a.m. so that it can be prepared for incoming visitors.
Reply to:
Mrs Mary Stelmach
Smallburn
Cairnie
Huntly
Aberdeenshire
AB54 4UE
Tel: 01466 760 219